Windows tablet prize up for grabs

At the heart of everything we do is a passion to make sure 'information technology' works for business customers.  It is a simple as that. But in order to do that, we need to know your concerns, your views and your opinions on what works for you.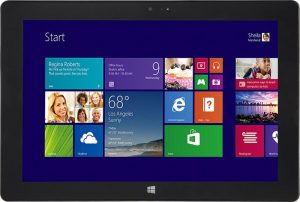 But we wouldn't ask for your time without a bit of an incentive! Up for grabs is a smashing Windows tablet for someone who completes our brief (but hopefully informative) survey to find out what businesses value about IT and what they hope it could do to improve their bottom line, their efficiency or maybe even their environmental credentials. All this is possible with good technology, properly implemented.
The survey is straightforward and will only take a minute or two of your time. The more responses we get, the better a picture we can build of what business people are thinking about their technology right now and into the future. It will also help identify where barriers to business growth are, and that's important for all of us.
As a thank you we want to give someone a really nice Windows 8.1 tablet (full spec below) that might just help them on their way to better business IT!
We'll share the results through our email newsletter, so if you're interested, sign-up for that while you're completing the survey.
As well as helping us to build a picture of what the business community is thinking around IT right now, it might provide some food for thought on your own business tech needs, so why not give us a couple of minutes of your valuable time? We'd really appreciate it. Thanks!
The prize – MultiPad Visconte 2
Series and Family: MultiPad Visconte 2 3G
Display Size: 10.1″ | 25.6 cm
CPU Core Quantity: 2 (Dual Core)
Operating System: Windows 8.1
CPU: Intel Celeron Processor N2806
Display Features: Capacitive Multi-touch Screen
Flash Card Supported: Micro SDHC Card
Interface Wi-Fi: IEEE 802.11b/g/n
Interface Audio: 1 x 3.5 mm mini jack
Digital Camera Back: 5 Mpixel, Front: 1 Mpixel
Included Accessories Quick Start guide, Warranty Card, EU plug, UK
Applications Installed Office Home and Student