Logistics experts order virtual I.T. director support

An expanding specialist courier firm has teamed up with county IT experts to ensure its technology keeps pace with the business as it delivers growth.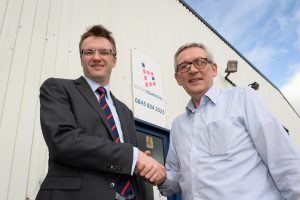 Dex's Midnight Runners, based on Battlefield Enterprise Park, Shrewsbury, is to receive it's own package of support from managed IT service provider, Bespoke Computing, which will provide round the clock management and upkeep of the company's technology as well as higher level planning of systems and services on an ongoing basis.
Managing director of Bespoke Computing, Chris Pallett, explained: "Continuing growth in a business brings with it the need to scale up the technology backbone in a number of ways and to plan ahead to ensure you have the infrastructure to support your growth, even if it happens really quickly.
"We are working with DMR to ensure it has the most suitable and secure systems in place, with capacity to scale with the business. Along with ongoing updates, user and software management, we will be providing our virtual IT director service, giving Derek and his team access to that skill set without having to employ an actual IT director. We understand his business and its needs so we can advise on an ongoing basis."
DMR specialises in a range of logistic projects, from temperature controlled deliveries to high value, confidential and time-sensitive packages, making both the security and reliability of its IT crucial.
Managing director, Derek Bennion, explained: "Working with Bespoke Computing makes perfect sense for us. We will have all of our technology needs covered, from hardware to systems, as well as having them updated and secured on an ongoing basis. In addition to that though, we will have the benefit of strategic planning to ensure we have everything we need from an IT perspective as the business continues to develop.
"There are some key building blocks which need to be in place to ensure continued success for an expanding company and we're confident we've chosen well in bringing Chris and his team at Bespoke Computing into the business."
Bespoke Computing has its headquarters on Telford's Stafford Park and serves clients throughout the Shropshire, the wider West Midlands and beyond.