Shropshire Young Enterprise award winners

Home educated teenagers who set up shop supplying ethical and educational products have been crowned the winners of a Shropshire Young Enterprise award.
Budding entrepreneurs from Otherwise Engaged, based near Bridgnorth, formed e-Go, a Young Enterprise company, which also holds workshops in nurseries, primary schools and other venues.
At the Shropshire Young Enterprise awards ceremony on 15th May 2013, they were awarded the Best Use of ICT award, sponsored by Bespoke Computing in Telford.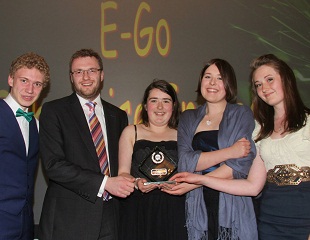 Chris Pallett, managing director of Bespoke Computing, presented the award and said the young people from e-Go had been worthy winners.
"We were approached by the Young Enterprise organisation in Shropshire to become one of the sponsors of the annual dinner and were very pleased to sponsor the award for the Best Use of ICT.
"Organisations such as Young Enterprise play a really important part in educating our next generation of business leaders.
"And even if someone is not planning to go into business then the skills learnt by starting a company through Young Enterprise can be used in other parts of your life."
Young Enterprise was first launched in 1963 in Chatham, Kent and attracted 113 teenagers who set up eight student companies.
Last year it worked with 220,000 young people aged four to 25 years in 5,000 schools, colleges and universities with help from volunteers from 3,500 businesses.
For more information about Young Enterprise in Shropshire visit https://www.facebook.com/YoungEnterpriseShropshire.
IT service provider Bespoke Computing Ltd is based in Telford, Shropshire, and works with dynamic business leaders to deliver intelligent technology solutions.
For more information about the company visit www.bespokecomputing.com.