Superfast broadband for Midlands business park
A £20,000 investment project will see firms on a Midlands business park benefit from superfast broadband – despite the area not yet being scheduled for the upgrade.
Businesses on the Kingswood Business Park, near Albrighton, will see the speed of their internet vastly increased after landlords decided to make the investment to improve the site.
Bespoke Computing is currently working with Telford chartered surveyors Wiggins and Lockett, to upgrade to a 50Mbps fibre optic connection to the site on the Shifnal to Wolverhampton Road.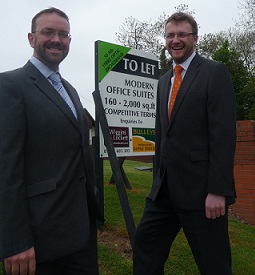 About a dozen firms will initially benefit from the investment and there are opportunities to make further improvements to the superfast broadband speeds in the future.
The investment is being made by the business park landlord through Wiggins and Lockett, commercial property consultants.
Anthony Wiggins, who oversees the marketing of the office suites at Kingswood said: "We are delighted that our client at this location has agreed to invest in the installation of this improved superfast broadband facility, future proofing the industrial estate and offering an unparalleled facility in the area to up and coming businesses of all descriptions.
"The superfast broadband facility has the built in potential to be upgraded in the future and we hope that this estate will continue to thrive."
Chris Pallett, of Bespoke Computing Ltd based on Stafford Park 4 in Telford, said: "Being able to access the internet quickly has over the last few years has become essential for doing business, from dealing with both customers and suppliers through to paying our taxes.
"Although superfast broadband has become more widely available throughout the country, the Albrighton telephone exchange that services approximately 3,000 residential premises and 150 commercial premises, including Kingswood Business Park, has not yet been selected or scheduled for upgrade.
"Bringing in dedicated internet lines can be a costly exercise so the businesses based on Kingswood Business Park are very fortunate that their landlord has agreed to do this for them.
"Being invited by Wiggins and Lockett to deliver this project also demonstrates the capability of local collaboration to solve a problem."