Company celebrates its 10th birthday

The owner of a Shropshire IT firm has plenty to smile about as his company celebrates its 10th birthday.
Chris Pallett set up Telford-based Bespoke Computing in May 2003 and has seen the company go from strength to strength over the years.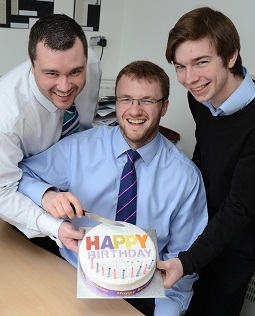 In the past three years alone Chris has been become the county's youngest Fellow of BCS The Chartered Institute of IT, expanded into international clients and even taken on additional staff with apprentices Connor Hawksworth and Andy Rogers.
And with an overall growth of 15 per cent despite the recession, Bespoke Computing  is bucking the current economic trend.
"It's been hard work but we have had a fantastic 10 years. To reach a decade in business and, even better, find ourselves doing better than ever despite the recession really is something to celebrate," he said.
With work continuing to pour in, Chris only has high hopes for the future.
"The speed of developments in the technological world keeps everyone on their toes," he added.
"Computers, tablets and mobile phones can now do things that were beyond imagination a decade ago.  The opportunity to take technology and innovate within your organisation is massive, with the right approach there are some big results to be achieved.
"We will keep working hard and keep moving forward.
"A lot of our new business comes through referrals from happy existing customers and we will continue to offer the best possible service."
Bespoke Computing, based on Stafford Park 4 in Telford, manages technology services for companies nationwide, large, medium and small, enabling business growth and success for all of their clients.