Moving your business to the Cloud
The Cloud over the business world is growing.  Moving your business to the Cloud is increasingly being seen as a way to minimise the need for IT and reduce technology costs.
Having settled down on Saturday night to watch the new Doctor Who episode The Bells of Saint John on BBC1, this now has an eerie sci-fi ring to it and brings a television warning to moving your business to the Cloud.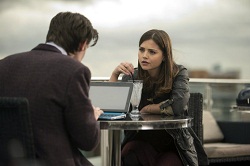 The world is swimming in WiFi and humans are connected to it all the time so what better way to take in and then controlled by a mysterious villain until the Doctor and his beautiful new assistant came to the rescue.
Now I do think that's going a little over the top and the Cloud is not some dark force we should be wary about but neither should you be moving your business to the Cloud with your eyes closed.
Certainly the Cloud has some great advantages such as increasing business efficiencies, decentralising a distributed workforce and in some instances reducing overheads.  But not suitable for all and has to fit the particular business to work.
Moving your business to the Cloud does not have to be all or nothing.  You can take just a part of your business and embrace a single Cloud based product, and a popular thing being security solutions such as email spam and virus filtering.
Cloud can be cheaper than your existing IT but that's certainly not always the case and perhaps less-so for smaller companies.  A business needs to look at the total cost of ownership over the lifetime of what they are doing.
Adopting Cloud based technology you need to consider the reliability and longevity of your providers.  If you have read our article about the Cloud bubble waiting to burst you will know even the biggest providers suffer from outages, and that providers can also go out of business or decide to call it a day.
Also frequently overlooked when moving your business to the Cloud are the simple things like understanding how your data will be backed up, the security to protect your Cloud based data, and how you might get your data back if you decided the Cloud wasn't for you or you wanted to change supplier.
If you are even remotely considering moving your business to the cloud it is important to take proper advice from a professional, it will be money well spent because after all, this is your business and you are talking about major change.
Sure the consequences of moving your business to the Cloud may not cost your soul and demand the expertise of Doctor Who to rescue you.  Instead it is time, money and the heartache of your technology strategy letting you down.
Your business may have nothing to do with IT but you can guarantee if the technology fails, your business will suffer.  Businesses have become so reliant on technology these days that you need to be sure that moving your business to the Cloud is right for you.
There is no denying that the use of technology around the Cloud is growing and when implemented correctly it can be transformational for business.  Many of our own clients have had great success stories with the Cloud and we share some of those stories as case studies on our website.
To close – if you are serious about moving your business to the Cloud be sure do to your homework before jumping straight in.  If you want to talk strategy, options or just throw a quick question past a professional then get in touch with us – 01952 303404.
If you are already using the Cloud as part of the technology strategy for your business, how did that work out for you and what had you wished you knew before taking the plunge?  Share them below in the comments box.