Kirsty is top of the apprentice tree

There was a huge cheer on the Bespoke Computing table at the Telford Young Professionals annual awards ceremony with the announcement that our own Kirsty Downward had scooped a key title.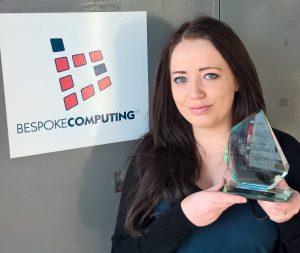 Kirsty was named Apprentice of the Year after making a superb start to her career with us, which was recognised by the judges after we spelled out just what makes her special.
We were able to highlight her enthusiasm, willingness to learn, commitment to customer service and to being part of a team in a fast-moving environment where we might talk in technical terms to each other but not to our clients!
Kirsty really has achieved all that and is a credit to the apprenticeship programme.
Sadly she wasn't able to attend the ceremony and actually collect the award herself, but our MD, Chris Pallett, picked it up for her and was able to have another little presentation ceremony back at the office.
Well done, Kirsty, we're all very proud of you!
Below are some more pictures from the presentation evening, when Chris picked up the award for Kirsty.