Introducing 'Ctrl, Alt, Speak'!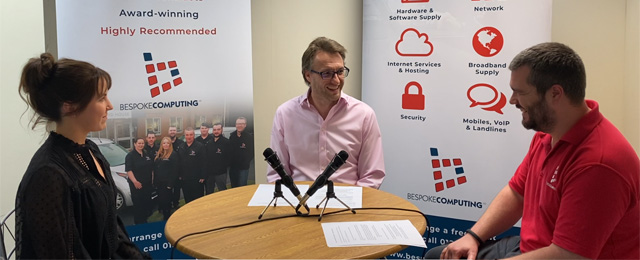 That's right, you heard it here first! 'Ctrl, Alt, Speak' is coming to podcast platforms everywhere today and we can't wait for you to hear it.
We mentioned in our last blog post that we were working on ways we could further support your business, for free. Well, our podcast is one of those ways!
Ctrl, Alt, Speak will release an episode a week, covering all things business and technology with helpful dashings of nerd talk, recommendations, dad jokes (only the good ones) and life chat.
How Will Ctrl, Alt, Speak Help Your Business?
The podcast will often feature special guests, each one bringing with them their own unique take on how technology is part of their business, issues they face and aspects they couldn't be without. The idea is that as a business community we support one another, solve problems and have a good laugh whilst doing so.
Our first episode is with our Managing Director, Chris, and Co-founder of marketing agency, Codebreak, Andy Rao. The episode covers how businesses have adapted throughout the pandemic, what's on the cards next and how business is changing for the better. Generous helpings of humour and chit chat also feature of course…
Future episodes to get excited about!
PCB Solicitors – This is all about online courts, new ways of working and working securely online.
Full Fat Things – Talking all things computer software and plenty of funny stories about people struggling to work remotely.
Quarsh – The new age of interviewing and how to crush video conferencing!
Beth, Matthew and Chris have also recorded one all to do with employment, what makes a good workplace, the best and worst business experiences and of course plenty of laughs!
All episodes cover the question 'What piece of tech could you not imagine life without?' Wait until you hear some of the answers…
Other Ways We're Helping Your Business…
#AskChris
Our #AskChris videos are still being released across social media every week and we're loving answering your questions. If you have a business or IT query you'd like us to solve, email us here.
How to get involved in Ctrl, Alt, Speak!
To listen, and subscribe, click here! We'd love to have you.
Fancy being a special guest? We'd love that. Contact us here so we can set that up.
Speak to you soon! (See what we did there…)
Take care and happy listening.