A new face for the customer service team…

We have welcomed a new member to the team who is already enjoying the challenge that IT brings.
Oliver Massey, 23, of Hollinswood, has joined the Bespoke Computing team at Stafford Park 4 in Telford.
After working at McDonalds in Ketley, Telford, for four years he has taken on the role of apprentice customer services operator within our team.
And just a few days in he said he was extremely pleased with his new role.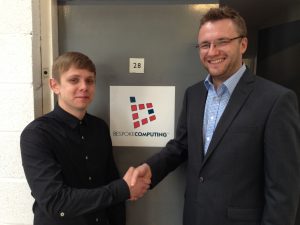 Oliver said: "Working closely with customers is something I have always done, it is something I am really good at.
"I really enjoy the challenge of working in IT, the variety of clients I am assisting and the office working environment."
Oliver has joined us as an apprentice after the business experienced a lot of growth in 2014.
He will be working within the Bespoke Computing team while studying Level 3 Customer Services at Telford College of Arts and Technology.
We are growing as a business and it is important that we ensure our excellent reputation for customer service is maintained as we grow.
The Importance of Customer Service
Oliver will be working on customer services. The role is about ensuring the services we provide are delivered on time and as requested, as well as acting as a first point of contact for customers.
In IT you are constantly learning as technology changes so fast.
There will always be something new to find out about and new systems to get to grips with and to communicate with clients about.
Customer service is an essential part of the business and Oliver will help ensure at Bespoke Computing it is the best it can be.
Bespoke Computing Ltd works with clients throughout Shropshire and across the country providing full IT and telecommunications services.
For more information about what we can do for your business contact us on (01954) 303404.