Stepping out from behind the scenes at the Shropshire Care Awards
We spent a lovely evening with the sponsors and nominees of the Shropshire Care Awards on March 28th, 2014, organised by local charity Shropshire Partners in Care (SPIC).
This is the second year we have sponsored the Shropshire Care Awards as the world of care is one that has had an impact on my family and the families of others in the Bespoke Computing team as well.
Three of my own close family members have required the assistance of care professionals in a totally different ways, and in a very short period of time. I was so grateful for the care that was provided and it gave me a little glimpse of how hard those in the care profession work to make sure that those people they come into contact with are cared for in the right way.
Announcing the Winner!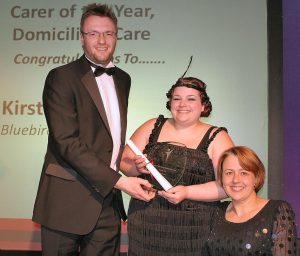 This year we sponsored the same category – Carer of the Year, Domiciliary Care – and the winner was announced as Karen Old of Bluebird Care.
Bluebird Care is a national provider of care in the home and the organisation specialises in working with customers and their families that require social care in their own homes. They offer tailored visits from 30-minutes to full live-in support.
Karen was described as a conscientious carer and a natural leader, very passionate about delivering care and highly praised internally, by external partners and by families. We felt privileged to be able to hand the award over to her.
As an IT company we get to work behind the scenes with a number of care organisations to ensure their technology runs smoothly and it is great to see the frontline staff being rewarded for their efforts – and to see them having such a wonderful time at the event.
We had a really good night and it was also wonderful to listen to guest speaker Baroness Tanni Grey-Thompson talk about her experiences.
We are looking forward to the Shropshire Care Awards next year already!