Sponsoring the Business for Children Awards 2014

When it comes to technology there is so much room for growth that putting it in the hands of young people and watching them develop along with it is the best thing you can possibly do.
The children of today could be the Steve Jobs of tomorrow and the dramatic changes in computers, the internet and social media in the past few years have shown how quickly things can evolve.
That is one of the reasons why Bespoke Computing Ltd supports the Businesses for Children Awards.
The other is because these awards highlights the efforts of businesses that start babies and children on their journeys of experience and learning – and as an IT company we can help those businesses be their best.
During the conference and expo which took place at the Park Inn Hotel prior to the awards ceremony we chatted to many businesses who were small and starting out on their journey and some that were much bigger but still had the same IT issues. It was a great event to get to know the business owners and help them with what we could.
And the awards ceremony showed us some of the wonderful things that these businesses do – before the winners and the highly commended businesses were announced.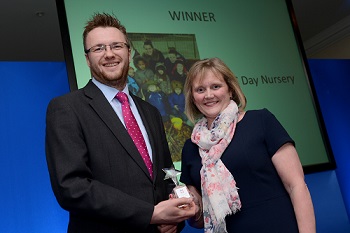 We sponsored the Best Business providing education for Under Fives category and were more than pleased to hand the award over to Penny Hustwick of ABC Day Nursery.
Penny runs four nurseries in the Telford area, all of which have been rated outstanding at Ofsted, and she has little touches in place to make sure the children attending have the most wonderful time while they learn – and that the parents can relax while at work, knowing their children are in good hands.
After the ceremony Penny said she and the nursery team, many of whom were there on the day, were really pleased to have won.
"It is a real team effort," she said. "ABC would not be ABC without the wonderful team of staff it has working for it. It is down to their dedication and passion for young children that we have won this award."
And I wish them huge congratulations – you never know, one of the youngsters at ABC may revolutionise the technological world at some point in the future….we will just have to wait and see.