Stay protected from CryptoLocker malware

A Shropshire computer expert has warned businesses to ensure they back-up their files and that their security is up-to-date to stay protected from CryptoLocker malware and other serious threats.
Chris Pallett, owner of Bespoke Computing in Telford, said there was nothing worse for a company after being hit by cybercriminals to find they could not access their data.
And he said it was important that firms put checks in place to make sure the files had been saved correctly.
Mr Pallett said: "It is vitally important that businesses make sure their computer system is properly set up.
It is a legal requirement that a back-up system is in use to protect business data but you should make sure you are happy with it."
"It is no use having back-ups that don't save properly and a system that fails."
Mr Pallett said a growing trend was for cyber criminals to access systems to block files before issuing a ransom demand for their release.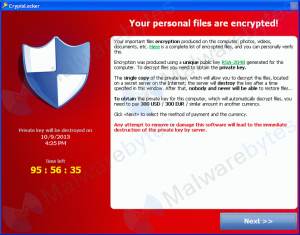 "The latest software called the "CryptoLocker" gets into computers usually via an email attachment. Most victims lack up-to-date security and anti-virus protection on their computers."
A message will flash up on the screen demanding a ransom paid by a specific time on the threat of having their data destroyed.
"At no time should this be paid by the victim. There is no guarantee that the victim will get their files back and could end up being targeted again."
Mr Pallett said: "Recently, we have spoken with a number of businesses on the receiving end of this and the only way to recover the encrypted files was to use the backups.
However, if there is no back-up in place or it does not correctly function then important files are lost." There is some antivirus software that will block CryptoLocker but unfortunately not all of them.
"If companies are concerned about their computer systems then here at Bespoke Computing we can offer advice on which software will keep out CryptoLocker and how vital it is to keep it up-to-date."
For more information about ensuring files are backed up correctly and what security measures to use, contact Bespoke Computing on (01952) 303404 or go to its website at www.bespokecomputing.com.