Owner of Telford I.T. company crowned Young Professional of the Year
The owner of a Shropshire IT company has been crowned the Telford Young Professional of the Year.
Chris Pallett set up Bespoke Computing Ltd in May 2003 and has seen the company go from strength to strength over the years.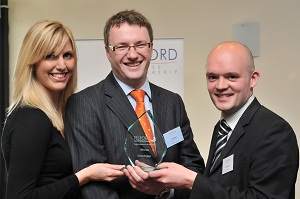 Based on Stafford Park 4 in Telford, Bespoke Computing manages technology services for small and medium sized companies nationwide, enabling business growth and success for all of their clients.
The Telford Young Professional of The Year Awards, run by the Telford Business Partnership, searched for the 2012 outstanding, inspiring leader among the county's professional community.
The award is open to anyone aged between 18-35 who works within the Telford and Shropshire area who feel they have made an outstanding achievement in their organisation or who have setup their own enterprise.
Mr Pallett said: "I am honoured to be the first recipient of this new award, and look forward to using it to support the future work of Telford Young Professionals within the local business community."
Jaclyn Kitson, of the Telford Young Partnership, said: "With the high calibre or young professionals working in the county it is important to harness this local talent and formally recognise the value and efforts of our leaders of tomorrow."