Company named number one service provider
Shropshire based IT company Bespoke Computing has been named as the number one service provider for a nationwide electrical test equipment manufacturer.
Managing Director Chris Pallett accepted the award for 'Service Provider of the Year' from Jon Harley of the Kewtech Corporation (East Anglia region).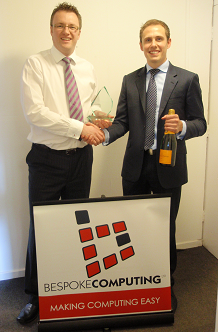 Director of Kewtech, Audra Trigg, said: "Bespoke Computing Ltd has looked after our IT needs for the last five years, working efficiently and transparently.  We look forward to another five years and beyond."
The accolade comes as Bespoke Computing celebrates its 8th birthday and a hugely successful past 12 months.
Chris, who is also the Shropshire chairman of the Chartered Institute of IT, said: "I am totally overjoyed to receive this kind of recognition from a client.  I am also very grateful to my team, without which we couldn't deliver the level of service we do."
Bespoke Computing, based on Stafford Park 4 in Telford, manages technology solutions for small and medium sized companies nationwide, enabling business growth and success for all of their clients.