New face joins Bespoke Computing Ltd
An IT firm that provides tailored solutions to businesses across Shropshire, the West Midlands and beyond has welcomed a new apprentice to its ranks.
Sammy Davies, 18, has taken up the role of business administrator, boosting the back office team at Bespoke Computing at Stafford Park in Telford to four.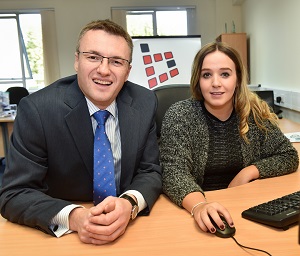 The firm supplies IT hardware and software as well as IT support, cloud and internet services and telephone systems to businesses across a range of sectors.
The former New College student, who lives in Albrighton and studied at Idsall School, said the new post was an ideal focus for her interest in IT.
"IT was always a subject I was very keen on at school. During my Art and Design course at college, there was a big emphasis on digital technology, which encouraged my interest in the sector so when I was offered the opportunity to join such a dynamic and forward thinking firm I leapt at the chance.
"I am learning new skills all the time and very much enjoying being part of the 'engine room' that supports the whole organisation."
Managing director of Bespoke Computing, Chris Pallett, said: "We are delighted to welcome Sammy to the team. She is already proving to be an important member of the admin team that keeps the company going and supports us to deliver a top quality and responsive service to customers.
"We are fully committed to the apprenticeship programme as we believe it helps us to identify and bring on talented individuals who are interested in a developing a long and fulfilling career in the industry."