Here's To The Next Milestone, Kirsty!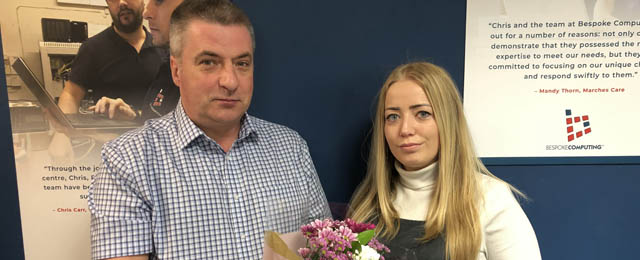 Last week, we celebrated our wonderful service administrator, Kirsty, for five years of working for us. We couldn't be prouder of the work Kirsty does and the progression she has made throughout her career with us. We're excited to celebrate many more milestones to come!
She's award-winning too, didn't you know…
Kirsty first joined us as an apprentice, where she excelled, winning multiple awards, including 'Apprentice of the Year' with Telford College. Kirsty is always looking for more ways to expand her knowledge to better service clients and progress in her own career. Kirsty is currently studying towards her ILM Level 3 Diploma in Management and she's certainly keeping us all in check in the office!
It's a win-win for everyone!
We're big on providing learning opportunities and recognised qualifications for all of our staff, from college to degree level courses. We are working alongside Telford College to provide higher level learning for all our apprentices and support the career progression of our team.
We know that if we provide the best possible qualifications and support for our team, we can provide the best possible service for our clients. We are so proud to celebrate five years with Kirsty. She is a key member of our team and we're excited to support her career progression every way we can.
"Bespoke Computing has allowed me to develop both my business experience and my qualifications, which has had such a positive effect on my career. They have always supported my development and I'm excited to continue to grow with them. Here's to the next milestone!" – Kirsty
We all celebrated with Kirsty in style, where champagne and creme eggs were definitely on the menu!
Congratulations Kirsty! Thank you for all that you do.
Want to know how Kirsty and the rest of our team can help your business? Call us on 01952 303404 or email sales@bespokecomputing.com.