Five Things You Need to Know Before Your Next Zoom Call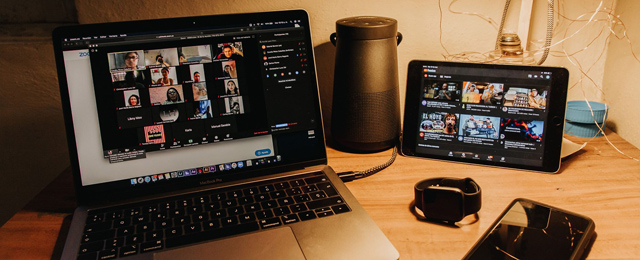 Now more than ever, we want to feel connected to others. The isolation side of this is definitely knocking us all for six and apps like Zoom have stepped up to help.
I'm sure you all know what Zoom is, but for those that don't, it's a video conferencing app that allows up to 500 people on a chat at once, for 40 minutes at a time with the free package.
It's taken the internet by storm with it's creative backgrounds, people not realising the camera was on (I'll let you Google that yourself), social gatherings and everyone's working day suddenly being Zoom call after Zoom call.
Don't get me wrong, I can see the benefits of this software, but alas, there are some serious negatives when it comes to Zoom that you need to be aware of.
1) Your information could be getting leaked and sold
Around 500,000 Zoom accounts have been reportedly sold on the dark web and hacker forums. Your information is being gathered through "credential stuffing attacks". This is where hackers attempt to login to Zoom using accounts leaked in older data breaches.
The successful logins are then compiled into lists that are bulk sold to other hackers. This gives hackers access to your email address, password, personal meeting URL and your HostKey (a six-digit pin you use to claim and control meetings you organise).
2) Calls are being gatecrashed
There have been reports where hackers have gatecrashed calls and behaved inappropriately. Once they have the information from above, they can join the calls they have access to.
How to Protect Yourself
You know we're all about keeping you safe, however, we also understand how important connection is, and with Zoom having the strongest video conferencing capability at the moment, we understand why you're using it.
You need to protect yourself with the following though…
3) Microsoft Teams
If you're conducting a small, internal meeting within your business, we would suggest using Microsoft Teams instead. It's more secure and has all the capabilities needed to accommodate your work; video meetings, file storage and application integration.
4) Password Management
It sounds simple but so many people still use the same password across multiple platforms, or passwords that are very easy to guess. Make sure you are using different and strong passwords for everything and are changing them regularly.
5) Check your email
Check if your email address has been leaked with previous data breaches through Have I Been Pwned. This will let you know if your information is already out there.
We know these are security issues that affect various applications, however, with Zoom being used so heavily at the moment, we want to ensure you stay safe.
If you continue to use Zoom, just make sure you are protected, and where you can, we would suggest using Microsoft Teams instead. If you have any other questions regarding the protection of your data, then contact us, we're here to help.
If you're unsure about how safe your business is from hackers, request our Cyber-Security Audit here. We will let you know how protected you are and what steps you can take.
Stay safe, stay connected and shout if you need us.