Cyber security one of biggest threats facing the world
Cyber security is an increasing issue for everyone at home with a computer, every business and every country.
And as the security problems become bigger the security solutions become bigger – but as business owners we must start the defence from our offices in order to protect our clients and ourselves.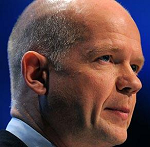 Earlier this month the UK'S foreign secretary William Hague called for a global, united response against cyber crime during an international conference in Budapest.
He also announced the creation of a new Centre for Global Cyber-Security Capacity Building in the United Kingdom that will be funded by a £2m annual spend.
The centre will offer independent advice on cyber security improving co-ordination and promoting good governance online – something that is much needed by businesses not only globally but locally.
At Bespoke Computing we offer this advice and more to ensure the people we are working with and alongside have the right security measures for them in place.
Hague said this was an important step as the emergence of highly sophisticated, state-sponsored cyber attacks as one of the biggest threats facing the world.
His comments come after the discovery of Flame malware, which was uncovered earlier this year and drew widespread concerns within the security industry.
With new and more sophisticated malware emerging all the time security measures – good ones – need to be in place as soon as possible.
Last month, the UK's spy centre, GCHQ, released its own set of cyber security guidelines for FTSE100 businesses.
To discuss technology security solutions within your own organisation, please get in touch or call 01952 303404.