Customer wins Kindle following company prize draw

A Telford computer company customer had a surprise late Christmas present when he won a brand new Kindle e-reader during its prize draw.
Lyn Milton Davies, group IT manager for the MIB Group in Cardiff, was picked at random by Bespoke Computing Ltd after filling in a customer satisfaction questionnaire before Christmas.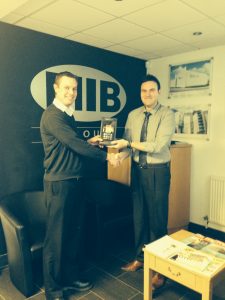 Chris Pallett, owner of Bespoke Computing, sent the surveys to all of his customers.
"Excellent customer service is the most important thing for us in the business and asking for feedback from our clients helps us to know that we are doing a good job – but at the same time helps us improve if there are some things we haven't got quite right," he said.
"As an added incentive to fill in the survey, we decided to enter all the responses into a prize draw for a brand new Kindle e-reader, with Lyn emerging as the winner picked at random."
Bespoke Computing offers tailored IT solutions for all sizes of business, from small and local to large and international.
The MIB Group is one of its newest clients, coming on board in 2013 and Mr Milton Davies was delighted and surprised to have been picked as the winner.
"It is the first time I have ever won anything in my 33 years so I was thrilled when Chris got in touch to tell me I had won the draw," said Mr Milton Davies.
"We chose Bespoke Computing for our IT systems because they provide consistently great service. The satisfaction survey further reinforced to me how important it is for Chris and his team to work with his customers to find the best IT solution."
For more information on the services offered by Bespoke Computing, which is based on Stafford Park, call 01952 303404 or visit the company's website at www.bespokecomputing.com.