County care home achieves national first on information standards

A care home has become the first of its kind in England to match NHS information governance standards after bringing in IT specialists to help it update both its technology and staff culture.
Marches Care, which runs The Uplands care home, in Shrewsbury, is the first private care home in the country to have met the demanding specification required to be granted an NHS Mail account and match the same benchmark for information governance required of NHS hospitals.
The milestone was achieved as part of a major project with Telford-based Bespoke Computing, which carried out a thorough review of IT systems and hardware at the home before embarking on a programme of upgrades and replacements. This was backed-up by training and support for staff to ensure they were familiar with key security practices and comfortable with the new systems and protocols for ensuring data security.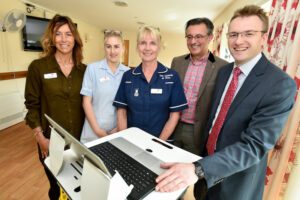 Chris Pallett, Managing Director at Bespoke Computing, explains: "For Marches Care to effectively work alongside the NHS, it had become imperative that it adhere to the NHS's stringent Information Governance standards. We were drafted in to make configuration changes to the existing systems and spend time with the team to introduce new best practices."
Because information governance is a fast-moving area, Bespoke Computing will maintain a focus on future strategy as Marches Care evolves and grows, including ongoing review of security measures required to satisfy ever-developing information governance protocols.
Carey Bloomer, Nursing Director at Marches Care, said: "We interact with partners in the NHS and social services all the time, so a key objective was to upgrade both our own IT systems and Information Governance procedures. We are extremely proud to be the first private care home in England to have secured a dedicated NHS Mail account, allowing the free-flow of digital information between our organisations, and also the first care home to have reached the same level of Information Governance as NHS hospitals."
Bespoke Computing was appointed in January following a competitive tendering and shortlisting process and as Mark Thorn, a Director at Marches Care, explains, there were some key considerations at play during the selection process: "To stand out in an increasingly competitive sector, and deliver the highest standards of service, we have embraced technology across our business. However, in doing so we've needed to be mindful of the fundamental requirement for us to ensure that sensitive information is secure.
"This meant we needed to engage with an IT partner who would work alongside us as an integral part of the team, not simply for us. Chris and the team at Bespoke Computing stood out for a number of reasons: not only could they demonstrate that they possessed the necessary expertise to meet our needs, but they're also committed to focusing on our unique challenges and respond swiftly to them."
Looking to the future, Marches Care plans to invest in further upgrades to its servers and back-up systems, as well as expanding upon technology across all aspects of the services provided. Ultimately their aim is to become as paperless as the industry in which they operate allows.
Carey comments: "At the start of this process I don't think any of us appreciated the challenge of professionalising the use of IT. This has required a cultural shift but we're now in a place where we not only have vastly improved security and processes, but also a team that is entirely on board with our new electronic way of delivering our services."
With the initial review and upgrade now complete, Bespoke Computing is continuing to work with Marches Care, as Chris Pallett concludes: "We're continuing to provide Marches Care with on-going support and, of course, in a 24-7 business such as a care home there isn't an ideal time in which to carry out necessary upgrades. However, I feel confident that the entire team now feels comfortable knowing that we're here to support them as they continue on their IT improvement journey."