Coffee morning for Macmillan a great success!

There's nothing that brings people together more than a good cause and good cake and we had both recently when we hosted a coffee morning for Macmillan Cancer Support.
It was also an opportunity to give people the chance to see behind the doors of our new offices, now we've moved in.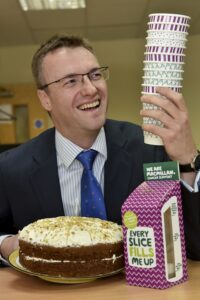 It was great to be able to show off our new HQ, which has been a long time in the planning, to the many visitors who had been enticed by the lure of cake.
Although more respected for their IT skills, several members of staff had channelled their inner Mary Berry and produced trays of homemade cakes and cookies that were devoured by our hungry visitors.
Thanks to the generosity of our guests, who also chipped in with their own doughnuts and brownies and took part in a guess the number of dots on a spotty cake competition, we raised more than £400 for Macmillan, a charity that does great work to support people with cancer.
The new offices – as well as the cakes – received the seal of approval from visitors. The move itself was 'a piece of cake' thanks to lots of preparation and hard work and it was a seamless transition for our clients.
We've stayed within Stafford Park as it offers us such a great central location but the new space has doubled our footprint.
It gives us the room to expand and grow in the future, much like our waistlines did after all the delicious cakes!