Apprentice moves to Shropshire to find I.T. role
A Shropshire IT firm has welcomed a new face to the team and taken on an apprentice who moved to the county in his search for a job.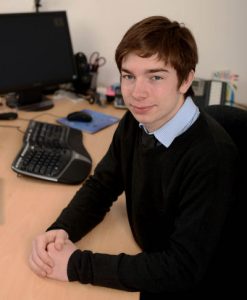 Connor Hawksworth, 19, has joined the team at Bespoke Computing Ltd on Stafford Park, Telford, as a new IT apprentice.
Connor moved to the county from Corby after searching for a job in IT in his local area for more than two years.
Chris Pallett, owner of Bespoke Computing Ltd and county chairman of the Chartered Institute of IT, said he was pleased to provide Connor with an opportunity to learn on the job with a work apprenticeship scheme.
"As the economy continues to suffer and unemployment rises it is time for businesses to work on providing support to the next generation and giving them a chance," he said.
"Connor goes to college each week and learns on the job in the office with us. We work in a wide range of areas, from IT support and consultancy services to network security, back-up and Cloud technology and much more.
"This means Connor gets to experience the vast subject area of information technology and see how we solve the problems of businesses across the county, from preventative methods to crisis management."
Connor said he has settled in really well and is already getting first-hand experience at helping businesses with their IT issues.
He said: "It is really tough to find work in the current climate and to secure a work apprenticeship scheme makes me one of the lucky ones."
"I have been looked for a role since leaving school and aim to learn the skills that will provide me with my future career.
"As well as working in the office and communicating with clients I can now resolve problems for them using the skills I have already learned."
Bespoke Computing is expanding in 2012 and as well as the addition of Connor, two new roles have been created and will be filled before the end of year.