Why we are supporting Shropshire Mind

I might have already mentioned this once or twice but the Bespoke Computing team will be taking part in the Long Mynd Hike in October to raise money for three fantastic charities – The Severn Hospice, Midlands Air Ambulance and Shropshire Mind.
In this blog, I am going to focus on one of those charities – Shropshire Mind – the incredible work it does and the very personal reason why it is one of the charities we support.
It is the local branch of the national Mind charity, which has the sole aim of giving those with a mental health problem somewhere to turn for advice and support.  It is a worthy cause in anyone's book.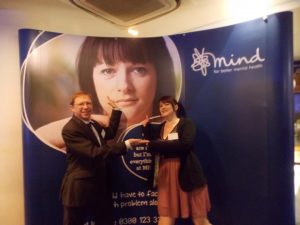 So why did we chose it over the hundreds of other equally worthy charities out there?
To put it simply, the help and support Mind has given my little sister Tracey as she struggled with mental illness during her 20s was incredible.
Right at the very start of her problems, when there was little physically that Mind could do to help her at that time, she was sent along by her GP to speak with one of their advisors.
The kindness, support and genuine desire to help her made an impression on Tracey that would lead her back to them in years to come.
During those intervening years, my sister continued to struggle with her mental health, became a drug addict and eventually ended up in prison.
By the time she was released, she had was off the drugs and clean and knew she had to seek further help from a psychiatrist, community mental health nurse and a support worker. She slowly started to get her life back together.
She was finally, after all those years of not knowing what was wrong, diagnosed with rapid-cycling Bipolar disorder, which meant she suffered uncontrollable and extreme swings in mood from euphoric to deeply depressed.
Not long after, she started working for her local Mind service and it turned her life around.
She wrote this blog talking about her struggles, for those who want to read more about her story:  http://www.mind.org.uk/blog/6149_the_secret_work_of_mind
Her own words from that blog sum up the amazing work of Mind better than any I could come up with.
"Mind had taught me so much, that I had the skills and ability to make something of myself. That all the doubts of ability and that lack of confidence was something of the past."
She is now training to become a psychiatrist herself and it is all thanks to Mind.
So that's why we have chosen to support this great charity, having seen first hand the vital role it plays in helping those who feel they have nowhere else to turn.
That's why we'll be slogging our way through the 50-mile hike through hill and vale, over rought terrain and heights of up to 8,000ft over 24 hours. And I know that we'll be able to put a sticking plaster over any blisters we might get along the way.
It isn't so easy to heal the mind so I for one am eternally grateful that Mind is here to help.
I know times are financially tough for everyone at the moment and that includes charities, so if you can dig deep into your pockets and donate whatever you can to our cause, it really would make a huge difference to people like my sister.
You can sponsor the Bespoke Computing team at http://www.justgiving.com/teams/bespoke-computing-2013