Why Bespoke Computing Supports Apprenticeship Schemes…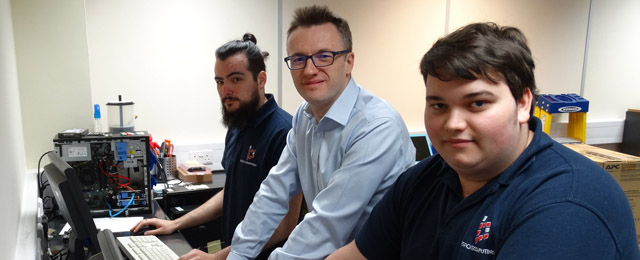 What better time to discuss supporting apprenticeship schemes than National Apprenticeship Week 2019? We're big supporters of apprentice schemes here at Bespoke Computing. In fact, three members of our staff were recruited through apprenticeships and have developed exponentially into hard working members of the team. One of them was an award winning one too. You can read about Kirsty's journey from apprentice recruit to winning the Apprentice of the Year 2015 award here.
A great alternative to university
Tim and Jake were taken on as apprentices through Telford College and they are a prime example of how working and studying is a great alternative for those who don't wish to attend university. Tim was keen to start a career in the IT industry but didn't want to go to university, so he signed up to an apprenticeship through Telford College which led to him becoming a help desk technician with us.
In this role he has built experience in dealing with a variety of technical issues for our clients which can involve anything from repairing a corrupt Outlook profile to more complex challenges.
Tim explains the benefits of signing up to an apprenticeship: "It's definitely something worth considering if you're not set on going to university. Don't waste your time with a job without training – whilst you're young, you can still access your training for free."
Being able to continue training while starting out in your career is an important benefit of apprenticeships, which have the potential to reach to degree level.
It's not just about continuing studies though, Tim enjoys the contribution being part of the Bespoke Computing team involves: "When the whole team are working on something and nobody can find the answer – but then you have an idea, it works, and you've found the solution."
Gain the experience and the qualification
Jake is our other apprentice currently studying with Telford College who had completed level three media and ICT qualifications before joining us. He found the apprenticeship provided him with a great source of learning: "I've learned a lot more on my apprenticeship than I did on my previous college course. I started looking for an IT job when I finished college, but all of the jobs needed experience or a degree. I found this apprenticeship and it was perfect."
He especially enjoys the opportunity of learning whilst working: "There is a lot to learn here, I'm happy with what I'm doing and developing my skills. Bespoke Computing is a great company to work for – there is a fantastic team and it's a relaxed environment."
Managing Director, Chris Pallett explains why apprenticeships are a good option for school leavers as well as companies: "Bespoke Computing is a strong advocate of the apprenticeship scheme, with Tim and Jake joining a history of success stories that we are very proud to shout about. We recognise the power and value in being able to shape and grow local talent through apprentices and working in partnership with providers like Telford College."
It could be you
To coincide with National Apprenticeship Week 2019; we are excited to be meeting with the college to discuss the next person to join our team through an apprenticeship! The college is having an Open Event on March 16th and you can register for tickets here.
If you would like to learn more about the IT services we offer, please call us on 01952 303 404 or contact us here.