The Shropshire Young Enterprise Awards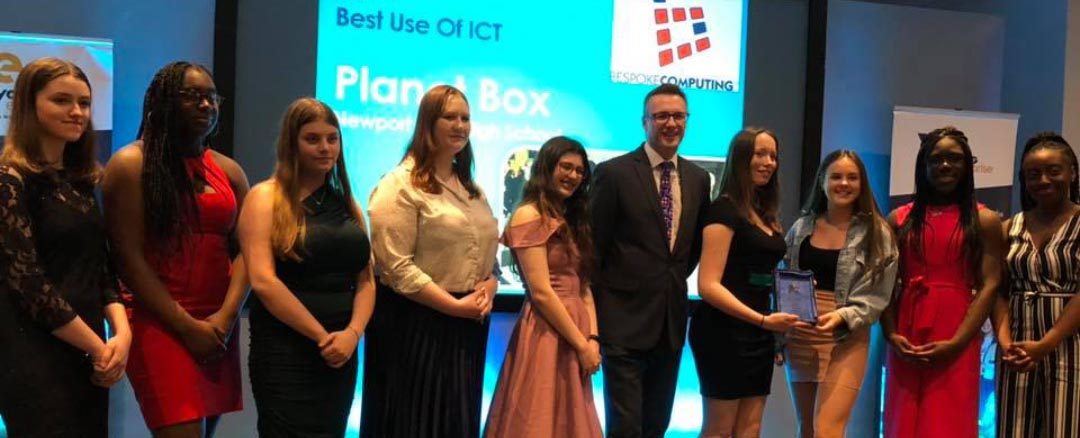 We had the great pleasure of sponsoring the 'Best Use of ICT award' at the recent Young Enterprise awards evening. The event was held at the Telford Centre Hotel on Thursday 2nd May.
There were over one hundred students there. Making up twenty-two teams who were all competing to win the accolade of Young Enterprise Shropshire Company of the Year.
It was fantastic to see so many young people all driven to hone their business acumen. The Young Enterprise scheme is a great platform for young people to experience the working world. And to understand the responsibility of running a business.
The Best Use of ICT Award
Sponsoring the 'Best Use of ICT award' was an obvious choice for us, we have been supporting this award for many years now. Investing in the workforce of the future is important for our industry. It also gives us a chance to spot any emerging talent!
On the awards night, we presented our ICT award to 'Planet Box' from Newport Girls High School.
They had created a range of eco-boxes offering environmentally friendly products. There was a Workaholic box, which had a bamboo travel mug, three newspaper pencils and a recycled paper notebook. The Lifestyle box included a bamboo travel mug, three metal straws, straw cleaner, and a bamboo toothbrush. We were very impressed with their use of technology, it was outstanding!
Chris Pallett, our Managing Director, presented the award, he said, "We were absolutely delighted to be sponsoring the award again. It's a pleasure to support local organisations, especially ones that promote digital and technical industries to young people."
"It's crucial we engage young people in technology. They can be the ones to take this industry forward in the future, and keep the UK at the forefront of developments."
"The Young Enterprise scheme provides a great insight into what it takes to be an entrepreneur. Perhaps many students now appreciate the hard work it takes to run a business."
And the winner is…
A total of twenty-nine awards were presented at the event – but Scrambled from Idsall School were the winners. They came up with a business idea of making items from recycled Scrabble tiles. Their products were sold at trade fairs, endured an interview with judges and delivered a presentation in Wolverhampton University's theatre.  They also had to put together a business plan and submit financial accounts. Learning in the process, not just how to run a business, but many useful employability skills.
Scrambled will be representing Shropshire at the Young Enterprise Regional Awards Ceremony at HSBC offices in Birmingham on Thursday, 6th June, we wish them the very best of luck!