Shropshire businessman is county's youngest Chartered Fellow
The owner of a Shropshire IT firm whose vision is to deliver business success to all of its clients has become the youngest Chartered Fellow of the Institute of IT in the county.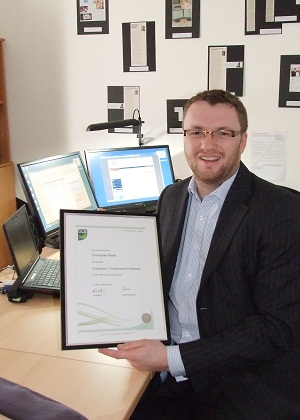 The grade of fellowship is awarded to the most senior and respected professionals in the field of IT who demonstrate eminence, authority and seniority.
Chris Pallett, 32, of Bespoke Computing Ltd in Telford, launched the company in 2003 with the aim of helping business owners manage their relationship with technology and maximise the potential that it has to bring.
Due to his significant contribution to IT and its perception to the public he has now been made a Fellow of the Chartered Institute of IT, alongside his role as Shropshire chairman.
He said: "The vision of Bespoke Computing Ltd is to become a nationally recognised professional provider of ethical technology services.
"In what is still a fairly young industry, credibility is key. It is an honour to have achieved Charter Fellow status within the professional body for our industry."
Since 2003 Mr Pallett has worked with many businesses across Shropshire and beyond and Bespoke Computing Ltd is a respected authority in the world of business technology.
The firm also runs a series of business briefings to teach people about IT in business. For more information visit www.bespokecomputing.com.