Research backs call to invest in I.T. to increase productivity
The productivity of small businesses is being stifled by a lack of understanding about how technology can support day-to-day activity.
That's according to the man behind business technology and communications support firm Bespoke Computing who says a recent survey, claiming smarter use of technology could boost business, echoes his own experience.
The research said that as many as 65 per cent of small businesses hinder their growth through inadequate use of suitable hardware and software and that if small businesses gained just two hours a week by joining up their IT services it could boost the UK economy by almost £9 billion.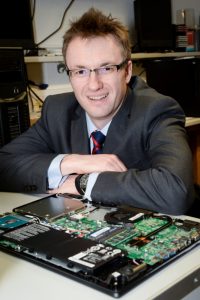 Chris Pallett, who runs Telford-based Bespoke Computing, said simple changes to make small businesses run more effectively would pay dividends.
"Small business owners are often under immense pressure to wear many hats, from sales to admin to HR, and investing and developing their IT services often drops to the bottom of the list.
"Although they may see it as something they don't have time for, having up-to-date systems and processes can actually save time and increase productivity in the long run.
"Because people don't understand how to get the best out of their hardware or software, they don't bother to investigate it or seek advice – and that ultimately impacts on their business," he said.
Chris has spent more than 20 years in the IT industry and his firm advises and supports organisations across a wide range of industries in Shropshire, the wider West Midlands and beyond.
He added: "A survey we conducted last year mirrored the recent research – people are not only concerned about the cost but frightened about their lack of IT knowledge. We can provide a virtual IT department to make sure your business is capitalising on the latest technology – it's about working smarter, not harder – and any IT costs should be offset by increased productivity."
Bespoke Computing provides innovative, value for money technology and communications solutions and support on an ad hoc or regular basis.
For more information, go to www.bespokecomputing.com or contact 01952 303404.