Our number one productivity tip for technology

We were invited to share our number one productivity tip with readers of business and entrepreneur magazine Fridge, take a look at what we shared…
Productivity is the ratio of output to inputs in production.
In layman's terms productivity is looking at how much you as a business have to invest compared with how much you achieve. Whether we are talking about financial investment, the amount of effort invested or the amount of time invested, productivity is an important part of any business.
And for any business my number one productivity tip would be to seek expert advice on your technology. When running your own business or managing a team it is essential to invest wisely in productivity boosters while steering clear of time wasters and shiny objects.
The most important thing you can do to when it comes to productivity is ensure that you are using the right tools for the job.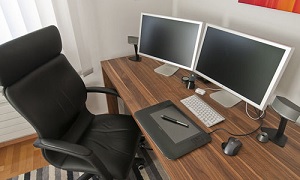 Dual monitors are often discussed as looking impressive on a desk – but they can boost productivity by as much as 30%! Why settle for one screen if this increase in productivity can give your business the boost it needs? Did you know you can run two or three monitors with your laptop?
A laptop is great if you work out and about but if you are chained to a desk would a PC be better? And when buying a computer do you think about its longevity? A £300 computer from the high street will, from experience, last you only a couple of years. Spending a hundred pounds more could extend the life of the computer by double, making it a much better investment.
Get Your Business Out of the Starting Blocks…
Free or really cheap web hosting will get your business out of the starting blocks and as your business grows cloud technologies like Microsoft Exchange, SharePoint and Lync will take your business to the next level and give you the same tools as the large corporates without the same price tag.
And adopting technologies like Voice-over-IP will give your business the ability to communicate wherever you are, retaining a local presence or presenting a global image to suit your business and how you want it to be received, while giving you the chance to be wherever you need to be.
By knowing exactly what is best for you and using that knowledge to invest in the right tools for you and/or your team is one of the biggest steps you can make towards creating a highly productive business.
If this strikes a chord with you and productivity is something that you need to look at, give us a call on 01952 303404.  Alternatively, what is your number one productivity tip – use the comments box below.