New appointment at Bespoke Computing

Bespoke Computing has strengthened its customer service team with the appointment of a new adviser.
Kirsty Downward has joined the leading IT firm, which has its headquarters on Telford's Stafford Park, and serves clients throughout Shropshire, the wider West Midlands and beyond.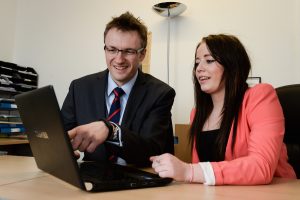 The firm supplies IT hardware and software as well as IT support, cloud and internet services and telephone systems to businesses across a range of sectors.
Kirsty, 21, will be the first port of call for existing customers. The former Burton Borough student, who completed an apprenticeship in IT, is currently studying for an NVQ Level 3 in Customer Service and IT through Telford College of Arts and Technology.
She said: "I am really pleased to have joined Bespoke Computing. The range of services we offer and clients we deal with makes for a very interesting job!
"As an organisation, Bespoke Computing prides itself on its attention to detail and customer service. I am delighted to be able to play a part in that very important role."
Managing director of Bespoke Computing, Chris Pallett, said: "Kirsty is a very welcome addition to the Bespoke team. Her IT background made her the right choice to take on the busy role and to provide the top quality service we offer to our customers.
"Her appointment is part of our ongoing commitment to provide our clients with a highly responsive and effective service."