Midlands I.T. experts swap the office for the Shropshire hills

A team of Shropshire IT experts will be swapping their computer screens for views over the Shropshire hills as they take on a 50-mile hiking challenge to raise money for three county charities.
Bespoke Computing director Chris Pallett and IT engineers Connor Hawksworth and Matthew Parrott are currently in training for the Long Mynd Hike, which will take place in the Shropshire Hills in October.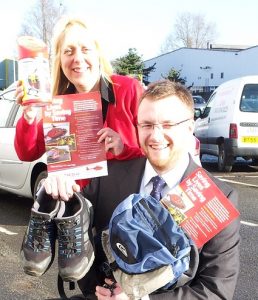 The team will raise money for Midlands Air Ambulance, the Severn Hospice and Shropshire Mind as all three charities are close to the hearts of the men.
Mr Pallett said: "We made the decision to jointly support the three charities as each provide support for people in a less fortunate position than us. The Air Ambulance saves lives every day, the Severn Hospice greatly supports people with end of life care and Shropshire Mind shows people what they can make of their lives despite suffering a mental illness – these charities have helped friends and families of myself and my staff over the last year.
"We thought the Long Mynd hike would be a perfect fundraiser as lots of people imagine IT workers to spend their whole lives in front of their computers and never heading out to enjoy the fresh air!
"We do spend a lot of time at computers – both our own and our clients – but in October we will walk 50 miles, with 8,000ft of climbing, in under 24 hours. And hopefully raise lots of much-needed funds for three really good causes."
The Midlands Air Ambulance is the only charity responsible for funding and operating three air ambulances serving the communities of Gloucestershire, Herefordshire, Shropshire, Staffordshire, Worcestershire and the West Midlands. Since 1991, the charity has responded to more than 38,000 missions averaging 3,000 per year – nearly 10 a day.
Maria Jones, of Midlands Air Ambulance, said: "We rely on the generosity of public fundraising so the support and generosity of businesses like Bespoke Computing is invaluable.
"As a charity we do not get any funding from the Government or the Lottery but yet our services saves lives every day. We are currently fundraising to buy a helicopter which could be flown at night which would be amazing for the people of Shropshire.
"The funds Chris and his colleagues will raise will ensure the air ambulance, which costs £24 a minute to fly, is available in emergencies – we all hope we will never need the service ourselves but nobody knows."
Severn Hospice is an independent charity and two thirds of their revenue comes from public fundraising. They care for people who are living with complex and progressive illness, offering loving support, help and counselling to their families, friends and carers.
Shropshire Mind was established nearly 40 years ago and provides a diverse range of services across the county for people and their families affected by mental or emotional distress. The charity aims to bridge the gap between illness and full independence for service users.
To support the Bespoke Computing Ltd team visit their JustGiving page at http://www.justgiving.com/teams/bespoke-computing-2013.