Matthew marking his decade at Bespoke

This month a very familiar face to our customers is marking a decade as part of the Bespoke Computing team.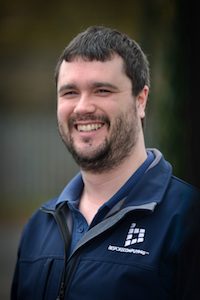 Matthew Parrott was just a year out of college, after studying software engineering, when he joined us. He'd recently moved up to this area from Farnborough.
He quickly settled in to Bespoke Computing's way of doing things and has grown with the business, developing a huge array of skills and experience – all of which works for the benefit of our customers!
Now 32 and living with his girlfriend in Shrewsbury, Matthew is a Microsoft Certified Technical Specialist and, when he's not up to his elbows in computer parts and software licenses, he also has an interest in what you might call "lively" cars…
As well as keeping the jargon out of IT, we put a premium on the stability of our relationships and Matthew's commitment to Bespoke Computing is a clear example of that.
Here's to the next ten years, eh Matthew!