I.T. firms kicks off sponsorship deal with junior football team

A junior football team has scored a new kit, thanks to a sponsorship deal with a Shropshire IT specialist.
Bespoke Computing, which is based in Stafford Park, Telford, has funded new kits for the 14-strong Wrekin Tigers U9s team for the 2016/17 season.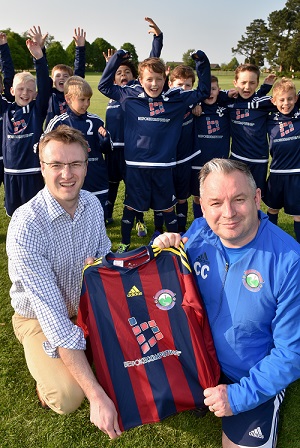 The distinctive kit for Wrekin Tigers, which is affiliated to the Wrekin Juniors club, will be a burgundy, blue and yellow top with navy and white shorts.
Team Manager Chris Carr said he was very grateful to Bespoke Computing for its support.
"Teams like ours are run by volunteers and operate with the goodwill and generosity of local organisations and parents. To kit out an entire squad costs around £500 and this is money that the team would have had to find if Bespoke Computing had not stepped in.
"We are really delighted with the new kit and will wear it with pride in the next season."
Wrekin Juniors is one of the largest football clubs in Telford and caters for boys and girls aged six to 16.
Chris Pallett, Managing Director of Bespoke Computing, said: "Clubs like Wrekin Juniors are the cornerstone of our communities, allowing children at all levels to get involved in sport.
"Chris is really passionate about the team and he puts a lot of effort in for the boys to make sure that they develop themselves both on the pitch and personally so we were delighted to have been able to support them. We will follow their progress over the next season with interest."
Bespoke Computing advises and supports organisations across a wide range of industries in Shropshire, the wider West Midlands and beyond.
For more information, go to www.bespokecomputing.com or contact 01952 303404.