Home-Start gets a head start thanks to Bespoke Computing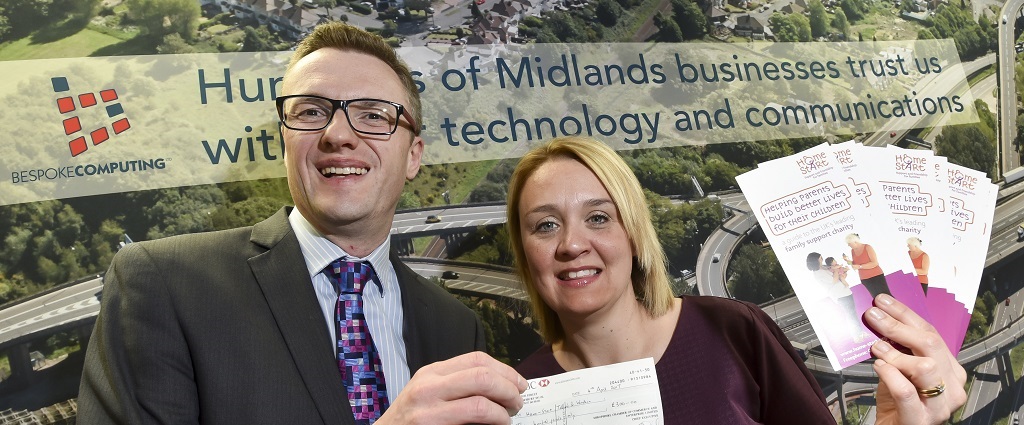 A charity that supports families with young children has been given free membership of a Shropshire business network, thanks to a firm of IT specialists.
As a patron of Shropshire Chamber of Commerce, Telford based Bespoke Computing has been able to gift Home-Start Telford & Wrekin full membership of the business organisation.
This means the charity will be able to take advantage of exclusive membership benefits and link up with other Shropshire businesses that might want to work with it.
Home-Start Telford & Wrekin supports families with at least one child under five who are dealing with issues ranging from disability to mental health, isolation or domestic abuse.
Bespoke Computing has also made a £300 donation to Home-Start, which was raised during a game of Heads and Tails at the Chamber's annual Patrons' Dinner.
Managing Director Chris Pallett said: "Membership of the Shropshire Chamber of Commerce is hugely beneficial but I know that it can be something charities can't always prioritise.
"Home-Start Telford & Wrekin does great work in our community and we were really keen to support its services. Membership will allow it to tap into the business expertise and knowledge of the Chamber business community."
Julia Allinson, Fundraising Manager from Home-Start Telford & Wrekin, said: "We are indebted to Bespoke Computing for granting us this free membership as it will open so many doors to other businesses in Shropshire that may be able to help us.
"We have lots of exciting plans in the offing and are looking forward to using our Chamber membership to its full advantage."
Bespoke Computing, based in Stafford Park, provides tailored IT and communications solutions to businesses across Shropshire, the West Midlands and beyond.