FREE event to highlight data threats – and their solutions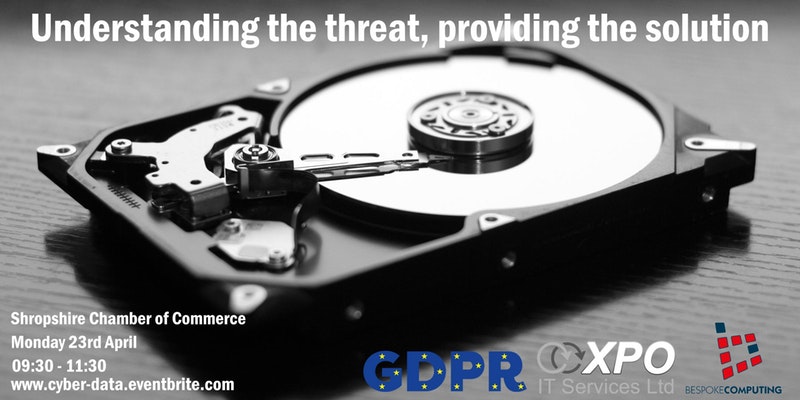 The life cycle of data is now something every business must consider.
In the era of the General Data Protection Regulation, unused and unnecessary information can no longer simply be discarded or left on a forgotten server or hard drive. That way lies the potential for huge fines and, perhaps more crucially, loss of reputation.
Every business needs to know how to store and safeguard what they have and, when they no longer need the data (or no longer have a right to hold it), how to get rid of it in a way that ensures both they and the subjects of the information are protected under the law.
Business IT and communications specialist, Bespoke Computing, has teamed up with IT recycling and data security experts XPO IT Services to put these issues front and centre and explain the key steps any firm can take to protect and secure the data it holds and remove it thoroughly when it's no longer needed.
Their free seminar, GDPR: Data Destruction and Cyber Security, will take place at:
Shropshire Chamber of Commerce on Monday, April 23rd, from 9.30am to 11.30am
It is open to all business owners and managers who need to understand how they can manage data and reduce the risks to their organisation.
Places are limited and can be secured by clicking here
Managing director of Bespoke Computing, Chris Pallett, said: "Protecting and securing data can be a large and confusing topic if it's not your personal specialty. Knowing where to start and whether you are putting your time and resources into the right areas can be a challenge. With this event we intend to help businesses avoid all of that and focus right in on what they can do now to put themselves on the right path.
"We've teamed-up with XPO IT services because our specialisms complement each other – we help to protect the data in the first place and one of their areas of expertise is to ensure you are protected by having thoroughly destroyed information you no longer need or have a right to hold. We've got the data management issue covered from both ends. It's going to be a very useful session for everyone who attends."