All smiles after celebrating seventh birthday
The owner of a Shropshire IT company is all smiles after celebrating its seventh birthday and a 35 per cent increase in sales on last year.
Chris Pallett set up Telford-based Bespoke Computing in May 2003 and has seen the company go from strength to strength over the years.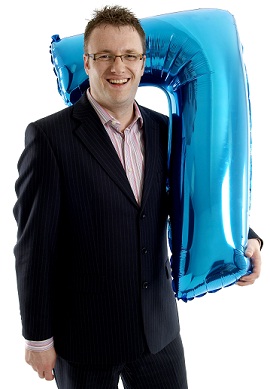 Chris said much has changed since the early days and believes they may well have been given a helping hand by the recession.
He said: "Rather than just being a noisy lump of steel and cables under the desk, business owners are starting to realise the potential effect to their businesses if they invest properly in technology.
"This has been to some degree magnified by the recession because it made business owners think outside of the normal boundaries for new opportunities."
Although the recession has hit many businesses hard the extreme developments of the technological world means work continues to pour in.
"In spite of the economy, technology has also kept everybody on their toes with new developments.  Seven years ago you didn't have Windows Vista, the iPhone, Facebook or Twitter," Chris added.
"The recognition for our best year yet has to be given to our customers and to my team, without either our business would cease to exist.  The last year has been a lot of hard work but a 35 per cent increase on sales compared to the previous year says it all."
Bespoke Computing, based on Stafford Park 4 in Telford, manages technology services for small and medium sized companies nationwide, enabling business growth and success for all of their clients.
In 2005 a new member of staff, Matthew, joined Bespoke and in 2007 Chris' wife Sadie joined the team.
For more information contact us on 01952 303404, visit www.bespokecomputing.com or email sales@bespokecomputing.com.